Industrial Communication: Embracing Industry 4.0
LAPP Industrial Communication: Embracing Industry 4.0
Steam and water power arrived around the 1800s, ahead of electricity and assembly lines a century later, and before the emergence of computers in the 1970s. Each industrial revolution brought momentous technological upheavals to global industries, and were marked by a change in their reference numbers, from 1.0 to 3.0. With the arrival of Industry 4.0, we have crossed another turning point in the development of manufacturing and automation.

As with the first industrial revolution of the 1800s (but with more robots), the rise of the fourth industrial revolution will see new processes and technologies rapidly replace traditional supply chains and manufacturing techniques. The confluence of artificial intelligence (AI), the Internet of Things (IoT), additive manufacturing, advanced robotics, cloud computing, and other digital technologies is creating a world with far more: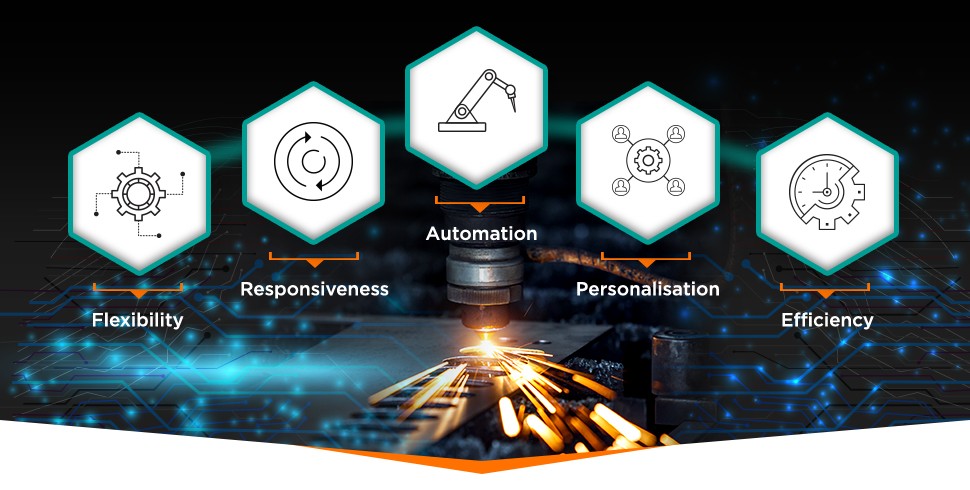 This offers enormous opportunities – but also huge challenges – for the industrial and manufacturing sectors. When it comes to cabling and connection technology, demands are already changing, data rates are climbing, and network cables aren't just connecting machinery but are laid with intelligent sensors: millions and millions of them.

Companies and manufacturers have since evolved with this progressively dynamic environment. Take, for example, the world-renowned engine manufacturer Rolls-Royce1. Repairing engines, in the old days, was a reactive affair: fixing mechanisms that had already broken down. Today, Rolls-Royce adopts a far more proactive approach – keeping tabs on over 70 trillion data points relevant to
engine maintenance, at any point in time, from interactions between their service fleet and customers. These raw data is then funnelled through custom data analytics and other machine learning processes, to derive intelligent predictions on developing engine issues before they surface, enabling more effective engine maintenance.

Going forward, Rolls-Royce plans to build swarms of miniature robots, 10mm in diameter and fitted with cameras, which can crawl through physical engines and perform scans, allowing engineers to conduct internal inspections without the need to dismantle them2. Imagine the Marvel character Ant-Man commanding his army of ants – but now in real life!
"Data is the new raw material
of the 21st Century."
Georg Stawowy,
Member of the Board for technology
and innovation at LAPP
At the core of Industry 4.0 is the merging of physical and digital worlds, alongside the emergence of a vast and rapidly expanding network of smart machines – in which every digital device has the potential to serve as a point for interconnection and informational exchange.

All of these are made possible largely by hard-wired cable connections that are capable of transmitting zillions of bytes of data.
A well-balanced range
It is important to have an overall understanding that goes beyond mere product know-how. "We see ourselves as someone who understands our customers and can act as a guide", says Georg Stawowy. What this means is that LAPP understands the customers' challenges and can tailor a solution for them. This includes appropriate products from the LAPP range, with custom products where necessary, and also – increasingly in demand – ready to install assembly and engineering. Additionally, this also "includes providing customers with the very latest knowledge, through webinars or explanatory videos for example", says Stawowy. In the future, these training activities will be expanded to include topics like the basics of automation technology.
LAPP's product range is based on these principles. It contains all the key components a user needs to design their factory according to Industry 4.0 principles, including a huge selection of data cables to comply with different standards such as PROFINET or CC-Link, and now also switches for distributing data in harsh environments. More new products will follow. But they will all adhere to the LAPP philosophy of always giving the customer what they need. LAPP experts are studying the lines of communication in customer applications to determine exactly what the requirements are and what an ideal solution would have to look like.

LAPP manufactures high-quality UNITRONIC® data network cables and field bus components that provide a forward-looking solution for all applications in industrial machinery and plant engineering. From transmission of simple control to field bus signals in complex network structures, we offer a dependable cabling and connection solution for virtually every situation.
The common process automation protocols that our cables support are: Actuator-Sensor Interface (AS-i), Profibus®, Controller Area Network CAN or CANopen®, DeviceNet™, Fieldbus Foundation TM, Safety Bus, INTERBUS® and European Installation Bus EIB or KNX®.
FIND OUT MORE

Ethernet is the leading standard for computer networks in office buildings. However, it has become increasingly prevalent in industrial environments, due to its widespread availability, reliability, and performance.

Our ETHERLINE® portfolio provides comprehensive and high-quality Ethernet solutions that our customers across the globe have consistently relied on to safeguard their enterprise from costly downtimes and dangerous breakdowns. At LAPP, we place great importance on fitting products to offer the best possible solution for your required application. ETHERLINE® supports varied applications in industrial environments as well as for structured building cabling, including matching field-mountable connectors and pre-assembled patch cables, among many others.
The portfolio is completed by our ETHERLINE® ACCESS products. These robust switches, which come in managed and unmanaged options, are the perfect network devices for a demanding industrial environment, and enable us to provide you with end-to end solutions from just one source. All our products undergo rigorous testing at our in-house laboratory to ensure that we can provide the quality that you have come to expect from LAPP.

The ETHERLINE® system supports all common industrial Ethernet systems like PROFINET®, EtherNet/IP®, CC Link® IE or EtherCAT®.
FIND OUT MORE
https://www.zdnet.com/article/successful-iot-deployment-the-rolls-royce-approach/
https://www.rolls-royce.com/media/our-stories/discover/2019/swarm-robots-win-innovation-of-the-year.aspx